In case you haven't heard, there is a Bead Soup Party going on. For all the details, check out Lori Anderson's Pretty Things blog. The beads have been exchanged, the thinking and planning is beginning and the reveal of lovely creations will be on March 3rd.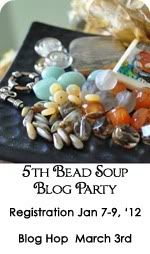 Sorry I can't get this button to center. Just the way it is today.
My Bead Soup partner is Alice from "Alice Dreaming." I wanted to make sure my Bead Soup partner had time to open, enjoy and post about the bead soup that I sent her before posting the picture myself. She has posted the bead soup so now is the time for me to share it.
The beads I sent Alice include some of my lampwork beads in turquoise and light green. Utilizing those colors, I created a focal bead for her. I included some accent beads, sterling silver beads and some silver chain. With wire in coordinating colors, I created some wire coils and hope Alice can find a way to use them. Guess that might be a challenge for her.
Hope you will come back for the Bead Soup Blog Hop on March 3rd.
Hope you are busy creating,