Welcome to the "Grow Your Blog" Party - 2015. A big thank you to Vicki, at 2 Bags Full blog, for hosting this event. Over 400 bloggers have signed up and the fun begins today.
My name is Carol Dillman and I live in the mountains of Virginia, USA. I am retired from the education field and keeping busier than ever.

I have two grown children, a son and a daughter. Both are married and my daughter just had a little boy in November. I also have 4 grown stepchildren and 3 more grandchildren. Whew! The family is growing. My husband and I love to entertain and spoil the grandchildren and sometimes the granddogs.

The Mr. and granddogs
I am so glad you have come to visit my little space in the blogosphere. This is where I get to share my adventures in lampwork glass beads, jewelry, sewing and some photography. I need to be busy all the time with creating, learning and improving skills.
Zinnia in my garden
I love to sew and have been sewing since I was fairly young. Though I am currently in to quilting and making baby clothes, my daughter and husband can sometimes get me to create projects they devise. Mending is not on my favorite list. lol
Quilt made for the Crisis Pregnancy Center
Another sewing project I enjoy is upcycling leather garments in to handbags and totes.

Leather tote made from leather skirts
Next on my list
is making lampwork beads which means I melt glass in a torch flame.

Lampwork beads from my torch
Then, because I have so many beads, I use a lot of them in jewelry. This also gets me into some metal work.
Sterling silver and lamwork beads
Seems that one thing just leads to another in my life. Does anyone else just like to try out everything? And this explains my stashes of fabric, glass, yarn, etc., etc. So many projects - so little time.
Glass stash
This year I have decided to join in with a

GIVEAWAY

. All you have to do is

leave a comment with your email address

so I can contact you if you win. Of course, I would love to have you follow my blog but it is not a requirement to win.
The gift will be a surprise as I haven't decided what it will be yet. I will announce the winner on

February 15

so be sure to leave your comment before then to be entered.
Thanks so much for visiting with me! If you are a blogger but not a participant in the "Grow Your Blog" party, leave your blog site in your comment and I will visit you, too.
Now if you are ready to have some fun and meet some new friends through their blogs, please click here on

Vicki's blog

.
Vicki has a list of all of the participants and links to all of the wonderful blogs that are participating. Many of the blogs are also having giveaways. Here's to making some new friends!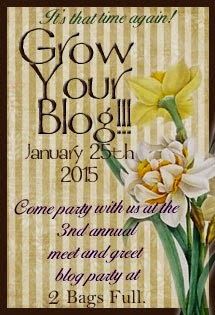 Keep on creating,
Carol D.