Let me introduce my bead soup partner, Barbara Mason. Just look at these lovely earrings she made. You can visit her blog,
Adorningly Yours
, and her Etsy shop,
Adorningly Yours
.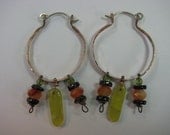 Our bead soups are in the mail. We are a little late because Barbara was lucky enough to be in Tuscon. So look out for us now because we are "cooking up" something interesting.
Here is just a little peak at what is heading Barbara's way.
And look at the wonderful things I received from Barbara! Even the packaging is fun. I can't wait to start designing.
Keep creating,